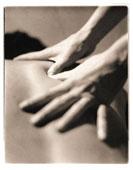 Let 19 years of experience, training and compassionate care combine to meet your therapeutic massage needs. I will assess your needs and tailor a massage that will leave you feeling like a limp noodle. Whether you are looking for a lighter relaxing touch, or a deep 'bring on the pain' kind of massage...I have the skills to deliver! ALL NEW MALE CLIENTS MUST HAVE A REFERRAL FROM ANOTHER CLIENT, FRIEND OR HEALTHCARE PROVIDER.
60 minutes: $70
90 minutes: $100
115 minutes: $130
Massage Upgrade Options: $10/ea
Hot Stone- The use of heated stones throughout the massage allows for greater muscle tension release and more relaxation. As a former hot-stone instructor (for 15 years!) this is my favorite modality and can be combined with any massage pressure from light Swedish to Deep Tissue.
CBD- I use the finest Organic CBD Salve to help soothe pain and inflammation. CBD helps the body to heal itself, and also allows for a deeper relaxation during the massage.
Craniosacral Therapy- using only about 5 grams of pressure (the weight of a nickel), this therapy subtly releases restrictions within the craniosacral system of the body to improve the functioning of the central nervous system. This therapy can also be combined with Cranial Neuromuscular Therapy (a deep form of massage) to release the soft tissue in order to maximize therapy time and benefits.
Reiki- Japanese technique for stress reduction, relaxation and energy balancing that also supports healing.
Chinese Cupping Treatment- this centuries old treatment utilizes cups to 'suction' along the meridians on your back. The treatment stimulates the circulation of blood, lymph and Chi to bring health back to areas of stagnation
Heated Bamboo Massage- In this treatment I use pieces of heated bamboo to lengthen the muscles. The bamboo poles allow for a deep tissue release that is very effective.
Infrared Light Therapy- Infrared light has been proven to aid with inflammation and pain relief. It also stimulates collagen in the joints. It also helps with scar reduction, aids in wound healing and increases circulation.