Facial Services:
Everything But the Kitchen Sink Facial: The name says it all! This facial begins with a decadent back treatment including a salt scrub and warming mud treatment. Then, I customize a treatment for your face that includes an enzyme or chemical peel or microdermabrasion treatment, hot and cold stone massage, Japanese Kobido facial massage, Nu-face microcurrent treatment, infrared light treatment, a specialized full-face collage treatment mask and 24k gold eye and lip collagen masks. The treatment ends with an eye cream, serum, moisturizer and sunscreen application. The kitchen sink never looked so good! $125/90 minutes
Rocky Mountain Facial: This facial is customized to address your unique skincare concerns and the special considerations that we face living in the Colorado climate. This beauty ritual includes cleansing, toning, two masques, steam, exfoliation, extractions (if necessary), massage, hot & cold stones and hydration. Recommended every 4 weeks. $75/60 minutes
Advanced Treatments: Any of the treatments below can be performed in a 30 minute session for $80 or added onto the Rocky Mountain 60 minute facial (with no increase in time) for $20/ea.
Peels: The use of Enzyme or Chemical peels can bring about significant changes in the health and appearance of your skin. I can choose a variety of peels based on your treatment goals. I will choose between an Arctic Berry Enzymatic Peel, 'lunchtime' Lactic Acid Peel, TCA Peel, Alpha 30% Peel, a Jessners Peel or a Beta 17% Peel. These peels address a variety of skin care concerns, such as hyperpigmentation, acne and fine lines & wrinkles.
Nu-Face Microcurrent Face-lift: This FDA-cleared device helps improve facial contour, facial tone and the appearance of fine lines and wrinkles.
Diamond-tipped Microdermabrasion: This exfoliation treatment helps boost collagen and elastin, which improves the appearance of fine lines and wrinkles. It also helps treat dull/tired looking skin, hyperpigmentation, acne and acne scarring. It also helps to reduce the appearance of pore size and softens the skin.
24K Gold Eye and Lip Collagen Pads: This moisturizing collagen treatment improves the appearance of fine lines and wrinkles, soothes the area around the eyes, plumps the lips and reduces under-eye puffiness
Full-Face Collagen Sheet Mask: During this treatment, I select from over 20 different varieties of collagen sheet masks to customize a skin-care treatment that addresses your specific skin-care concerns.
Infrared & Blue Light Treatment: During this treatment, I use a combination of infrared and blue light which has been shown to stimulate collagen and elastin, helps calm rosacea and has anti-bacterial effects that help treat acneic skin. It helps to stimulate healing and it reduces inflammation.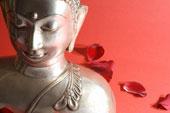 Waxing Services: Avoid sun exposure 2 hours before and 12 hours after waxing. Not available for those using Retin-A, Acutane, of other strong Vitamin A-based products.
Brows $15 (Clean-up) $25 (Shape-up)
Lip $10
Chin $10
Lip, Chin & Brow $30
Underarm $20